Degreasing adapted to your products and to your requirements
The DÜRR Ecoclean system offers parts cleaning with modified alcohols and drying in a hermetically closed work chamber which ensures a save and controlled operation.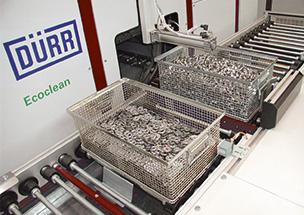 The cleaning procedures are especially adapted to your products and to your requirements of cleanliness; as such, they provide best results especially when it comes to degreasing and cleaning from oily pollution.
In addition the high-performance Ecoclean system produces almost no emission and therefore over exceeds recent environmental protection requirements.
Depending on the parts and the level of soiling we achieve an optimum of cleaning and a maximum of process reliability by freely programmable procedures.
A long service life and high efficiency of the Ecoclean system is given by a continuous discharge of residues.
Overview of your advantages:
Programmable Logic Controller (PLC) steered, fully automatic process
Cleaning and drying processes in a closed work chamber
Automatic feeding of the work chamber
Loading with a maximum volume measure of 635mm/375mm/375 (L/W/H)
Flexible selection of hot dipping method and/or cold dipping method
High performance injection flood washing
Rotation and swivel movement to support the cleaning and drying effect
Spray degreasing and vapour degreasing
Continuous solvent treatment by vacuum distillation
Ultra sonic support
Bypass filtration
Separation of emulsions and continuous oil discharge
Operation almost totally free of emission, environmentally friendly process
The E. Krieg GmbH is a ISO/TS 16949 and ISO 9001 certified specialized company